ABC Bartending Schools has a bartending school in Las Vegas, NV and is the largest privately owned bartending school system in the United States with schools from Seattle to South Beach. Tony Sylvester has owned ABC Bartending Schools and has been placing bartenders nationwide since 1977.
The Director and morning and afternoon instructor of  ABC Las Vegas campus is Greg Abate. Greg has a BA degree from CCSU of Connecticut, two years graduate work at NYU, and over 40 years of experience in the hospitality industry, which includes managing a restaurant for 4 years, managing a night club for 13 years, and bartending for 3 years on Ft. Lauderdale Beach. Greg started teaching for ABC Schools in our corporate office in Ft. Lauderdale before opening the school in Las Vegas. His considerable knowledge of the industry is passed on to our students to keep our nationwide reputation of training the most efficient bartenders in the country.
Larry Riley, our current night instructor, has been in the industry for over 30 years, managing bars and restaurants and is currently managing and bartending at the world renowned Art Bar. He has been teaching the night class for 3 years, and his unique style and personality are well received by all of his students.

Karen Abate, our Admissions and Job Placement Director, has been working with us for 5 years and has been bartending for 2 years. She is in charge of placement for staffing agencies, events such as NASCAR - NHRA - Craftsman Truck Races and local bars, restaurants, and night clubs. We also work with wines walks, beer pourings, weddings and private parties. Karen is also responsible for compiling our job placement list which tells you who is hiring, what they are hiring for, and how you need to apply. The list ranges from casinos, hotels, restaurants, night clubs and local bars. This list is updated every Monday and is available exclusively to our students lifetime, nationwide, and free of charge.
Las Vegas Campus Staff
Greg Abate / Director
Karen Abate / Admissions/Job Placement Director
Larry Riley / Night Instructor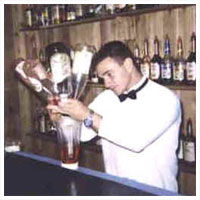 You could be in this picture, training to become a professional bartender.