Articles
Here are excerpts from some of the articles written about Tony Sylvester's bartending schools, job training and employment placement services from 1977 to the present.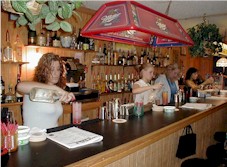 It's not unusual for someone to wander into ABC Bartending School and order a cocktail. The faux bar on busy Kennedy Boulevard looks authentic. Notice the Johnnie Walker rubber mats and Babe Ruth photograph on the wall.
The libations poured by the students are fake, though, a combination of food dye, water and a jellylike substance. Tiny bobbing balls mimic fruit garnishes.
This classroom bar at 4601 W. Kennedy Blvd. has offered instruction in what director Dan Bygden terms a "recession proof profession." "Good or bad times," he says leaning on one of two bars, "people don't like drinking alone."
ABC's Bygden says a certificate shows a potential employer that a person is serious about doing a good job.
Janice D. Froelich - The Tampa Tribune

Chicago Tribune
Excerpts from the Chicago Tribune
Impress your guests, or find a new career, behind the bar
By Jennifer Olvera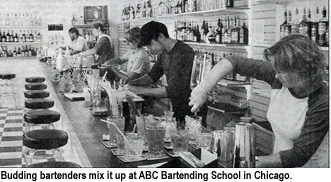 When it comes to throwing a bash, it's hard to deny that libations play an integral role. In addition to being the festivity's fuel, thoughtful beverage selection also can be a tasty way to show guests you care. The problem is, many people don't know a mai tai from a Singapore sling---and cocktails more complex than, say, a rum-and-Coke can cause anxiety.
No excuses. The holidays are just around the corner, and it's time to get with the program. Believe it or not, bartending courses can teach you to sport a superb salty dog, hone your creativity and become a better communicator.
"Both professional bartenders and housewives looking to throw parties are interested in learning to tend bar," said Myong Park, a Chicago resident and former bartender who instructs at ABC Bartending Schools on Belmont Avenue. "It's a life skill. It teaches you how to treat people well and make them feel good."
In his free time, Park hosts parties for his nearest and dearest at home. "Being a good bartender means your guests don't want to sit in front of the TV," he said. "And it means you can be the life of the party. Who doesn't want that?"
ABC's classes teach everything from etiquette--women still get served first--to the difference between a highball and rocks glass. "Bartending classes go beyond the basics," said Kelly Curtis, director of ABC. "You do learn how to make and serve drinks the right way, but you also learn what to--and not to-- talk about. A bartender, just like any good host, is there to please his guests."
While most people don't associate tending bar with keeping the peace (that's the bouncer's job), there is something to be said for a bartender who helps visitors get along.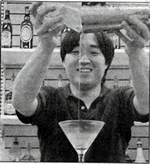 ABC BARTENDING SCHOOLS: Offers 40-hour courses that meet on five consecutive days as well as weekend sessions, which last three weeks. Beyond learning how to create traditional drinks, bartenders-in-training begin fashioning beverages on the fly: 1034 W Belmont Ave, 312-664-0074. The school also has a location in MT. Prospect (1699 Wall St.; 847-228-0700
Instructor Myong Park says that learning to help people feel good is an important skill.

Bars are magical places, full of smoke, fried foods, happy people with lowered standards ...and almost always alcohol. But what happens when you entertain at home? Not only are you expected to have a fully stocked bar, but those baby pearl onions had better be at the ready, and you may hear reports that the drapes are on fire. Panicked, we sought guidance on the art of being your own bartender.
Q. Should I watch "Cocktail"?
A. "The Tom Cruise movie"? Never hurts," muses Jack McKim, the director of ABC Bartending Schools (847-228-0700). The air-borne, spinning techniques are called "flair bartending" -still very popular in places like Las Vegas and Disney World. But Pace warn that there's a distinction that Cruise missed. "The trick to flair bartending is making a drink while performing the tricks," he says. "Not so in 'Cocktail'."
Q. What are the biggest mistakes amateurs bartenders make?
A. Taking shortcuts. A cocktail recipe may look convoluted, but every step has a purpose. Chilling a glass, blending the ingredients for the proper amount of time, twisting the lemon into a martini rather than dropping it -a little extra time translates into taste.
Q. What are some of the intangibles about bartending -the stuff you can only learn through experience?
A. It's all about the customers (or, in our case, guests). "They can have quirks on exactly how they prefer to have the drink made," says McKim. " 'Shaken, not stirred' comes to mind."
Q. What are the latest fabulous cocktails?
A. New and trendy is so... last summer. this year, the classics are back. "The Cosmopolitan, Kamikaze, Sex on the Beach, Martinis, Long Island Ice Tea, Woo Woo," Pace suggests. "I bartend at night in Vancouver [British Columbia], and the most popular drink was a Long Island Ice Tea." Just make sure the traditional drinks are prepared properly, say McKim. "Martinis, Manhattans, Rob Roys, Old Fashioned, Whiskey Sours. They have been made since Prohibition, and still are popular today."
Q. How can a party host stock a home bar without going bankrupt?
A. The basic liquors should do the job: vodka, gin, rum, tequila, scotch and whiskey. A popular brand name of each will run you about $10-$20 each. "You should also have things like dry and sweet vermouth, triple-sec, lime juice and grenadine for mixing cocktails," Pace says. If you're inviting more than 30 people, consider professional help, McKim suggests. His school can help stock the bar and juggle drink orders while you mingle.
Q. What about barware -is it necessary to invest in grappa glasses?
A. You should be alright with rock glasses, highball glasses, martini glasses and margarita glasses. Or you could simplify things with high-end plastic glasses. "A cordial glass can be used for grappa," recommends McK

The adventures of on bleary-eyed Texan at the Harvard of bartending schools.
By Adam Pitluk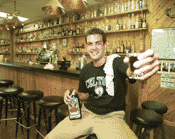 Jeff Hoferer moseyed on down to Fort Lauderdale's ABC Bartending School from Dallas, Texas, to learn how to make a mean cocktail
A drunk, horny guy hits a drunk, horny town -- to learn how to make people drunk and horny.
American Airlines flight 2042 from Dallas, Texas, has just arrived at Fort Lauderdale/Hollywood International Airport. Pale, pasty South westerners file out like a flock of happy sheep, wide-eyed and excited.
Ever since he graduated with a marketing and international-business degree from Kansas State University in 1999 -- the 24-year-old Hoferer has worked as a bar and concert promoter in the Dallas/Fort Worth area.
A few weeks back, though, he had an epiphany. Staring down the barrel of a shot glass he had just drained of Jägermeister, Hoferer saw his future: He'd move to Los Angeles and make it big as an actor-model, but not before jetting to South Florida to earn his license to kill... brain cells, that is.
Yes, Jeff Hoferer is here to attend Fort Lauderdale's ABC Bartending School, the Harvard of mixology. Sure, there are other bartending schools, but this is the big one.
He does pick up some rules of thumb to take into his first day of school: The more drinks you serve, the more tips you earn; a guy on a date is a bartender's best friend; and no real man ever orders a Tom Collins in public.
ABC has been schooling the supply side since before Hoferer learned to read. The largest chain of bar schools in the country, ABC boasts 13 schools nationwide (and five more on the way). It's a multimillion-dollar venture, granting 7000 degrees a year in cities coast to coast -- and Broward County is where it all began.
When Tony Sylvester opened his first bartending school in Broward County in 1977 on the corner of State Road 7 and Coconut Creek Parkway, he knew there was no guarantee. "It was a gamble," Sylvester says from behind his desk, His desk sits front and center of the establishment, flanked by framed thank-you notes from various bars around the country. "But just like the American Dream, a little hard work still pays off in this country," he adds.
This Bill Gates with a twist of lemon grew up in an orphanage. He has no more than a ninth-grade education, but despite his accomplishments he keeps his ego mostly in check: He doesn't want to forget his Passaic, New Jersey, roots. He keeps his reminders close at hand: His GED, crusty and faded, dated December 19, 1975, stands on a filing cabinet behind his desk, while a picture of him in the orphanage graces his desk at home. He still works ten hours a day, seven days a week.
But larger than life is a framed poster of the world's greatest celebrity bartender -- none other than Brian Flanagan (as played by Tom Cruise) leaning over a bar, baby blues glistening in the pink neon light of the sign that hangs above him: Cocktail.
So if your looking to learn how to bartend just call your local ABC Bartending School.

Ex-dot-commers belly up to the bar!
by David Lazarus
They've been joined by a variety of others seeking new opportunities amid the economic downturn - a trend that's seen enrollment boom at bartending schools in the Bay Area.
"This industry is pretty recession-proof," said Chris Grant, director of ABC Bartending School in San Leandro. "When times are good, people drink. When times are bad, people drink."
All local bartending schools say they've been deluged with former dot-commers and technology professionals seeking careers in a slightly less volatile field.

Business Monday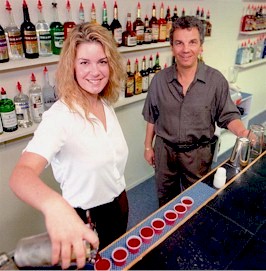 ABC Bartending School director Kim Chiacchiaretti and owner Tony Sylvester with his newest bartending school at 5036 Katella Avenue in Los Alamitos. ABC has schools nationwide and now has its first location in California. Founder Tony Sylvester is a third generation bartender, who opened his first bartending school and started teaching his craft in 1977. He plans to open three or four more schools in Los Angeles County soon. The 40-hour program can be done in 1, 2 or 3 weeks. To reach the school call 562-596-7009.
Marilynn Young/Press-Telegram

ABC Bartending Schools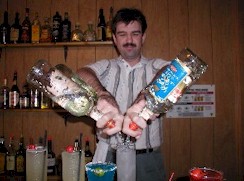 Where You Can Become a Master of Mixology
By Lauren Halperin
Today's classroom of tomorrow's bartenders includes Tony Genco, 22, a recent South Florida implant from New Jersey, and Craig Silverberg and Michael Barrows, both 31 and both looking for career switches. Perla Bodden, 21, wants a job in an area nightclub and knew ABC Bartending Schools was the best start to her new profession.
Since 1977, Tony Sylvester has been the key ingredient of the largest bartending schools in the country, matching the right faces with the right places. At ABC, students are taught to walk, talk and think like a bartender. Third generation in the hospitality industry, Sylvester has set up opportunities for his ABC Bartending School graduates across the country once they graduate from what has been called "the Harvard of Mixology schools."
ABC now boasts 15 schools nationwide, including seven schools in Florida along with plans for further expansion before 2003. This multi-million dollar venture grants over 7,000 bartending degrees each year in cities across the country. Not bad for one man's simple entrepreneurial belief: "Have a dream and work hard for it."
"Many battles have been fought and won by soldiers nourished on beer."
--- Frederick the Great ---
At first glance, the classroom looks like any other tavern or bar. Instead of desks, students sit at the bar, on barstools, next to sipping straws, strainers, and selections of garnishes. Behind the instructor are three shelves, which span the width of the bar, loaded with a kaleidoscope of liquor bottles. The bottles are different sizes, colors, and contain different types of alcohol, with recognizable brands like Bacardi, Captain Morgan's, Crème de Cacao, Bailey's, Absolut, and Peppermint Schnapps. The other side of the 'desk' is a full working bar, stocked with different size glasses, liquors, and ice.

21 co-workers sign up for bartending school after losing high-tech jobs.
By Tiffini Theisen
SENTINEL STAFF WRITER
Two Tuesdays after he lost his job, James Gordon sat at a bar along Mills Avenue. Gordon and the dozen others lined up at the bar at Orlando's ABC Bartending School.
A few minutes later, Noel Shaw entered the room. Shaw, the school's teacher and director graded their tests. Gordon did well: another 100% score. He was mastering the drinks taught in the week long course, remembering little things, such as what crème de cassis tastes like "currants" which drinks get a sugared rim "side car".
Their classroom boasts all the comforts of a hometown tavern: neon signs, a radio tuned to soft rock and an ice maker. In fact, you wouldn't know it was a real bar till you took your first sip: All the drinks here are made with colored water.
Other students in a recent session in the class included a laid-off dot-com work, a former marketing executive, and a car sales-woman and an air-traffic controller both seeking part-time jobs.
Those who were laid off in early April made about $8 to $16 an hour plus overtime and bonuses. Bartenders in the Orlando area can make $12 to $40 an hour with tips.
Others who signed up were at first skeptical about bartending. "It seemed like one of those surfer jobs", said Christy LeDuc, 33, a former process analyst.
But the idea soon spread among the clannish clean-room crew. Suddenly, ABC Bartending School was a hit with newly out-of-work microchip makers.
Many of the new mixologists aren't thinking of bartending as a new career, but a temporary gig while they go to school. "Look at it this way: If we go into a recession, people are still going to drink," said Bonnie Oster, ABC Bartending Schools' placement director.
Casino dealer students hopeful outside training will lead to jobs in 2012
January 02, 2010, 10:00AM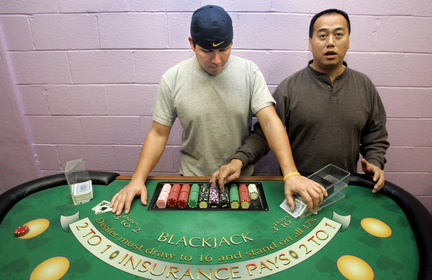 Lee Chau, right, works with student Gordy Bivens to show fellow students how to position themselves at a gaming table.
FARMINGTON HILLS, Mich. — Before students get to deal a game of chance in Lee Chau's class -- and get a shot at a steady paycheck working in a casino -- they must learn how to shuffle and count.
"Come on now, 20 at a time," Chau coached Rose Leitaert, a 57-year-old laid-off restaurant worker from Michigan, as she tried to pick up a stack of chips with one hand in a recent class. "They aren't going to let you work unless you can hold them all at once."
Chau teaches poker and casino games such as blackjack, roulette and craps. The classes at ABC Bartending/Casino School use Monopoly money.
He instructs dozens of students weekly, mostly unemployed workers from Michigan and Ohio who are taking a chance at learning a new career that can pay up to $60,000 a year. Some hope their investment in his class will land them one of the 7,500 full-time jobs estimated to be coming to Ohio's new casinos. The jobs come courtesy of Issue 3, which voters approved in November to allow full-service casinos in Columbus, Cincinnati, Toledo and Cleveland.
Gaming should begin in 2012.
Though dealers are not required to have certifications to work in casinos, graduates of the Bartending and Casino College say the courses have given them the skills to properly deal cards, a proficiency that casinos look for when hiring.
"I think this shows the community and residents of Ohio are anxious for the jobs Issue 3 will bring and they are preparing themselves," said Jennifer Kulczycki, a spokeswoman for Quicken Loans, owned by Cleveland Cavaliers owner Dan Gilbert, who won the right in November's vote to build the Cleveland and Cincinnati casinos.
The ABC Bartending and Casino School plans to open a school in Cleveland next spring and add the casino course to a bartending school the company runs in Columbus.
"We figured it would only be a matter of time before casinos would come to Ohio because they were losing too much money to Michigan and West Virginia," Chau said.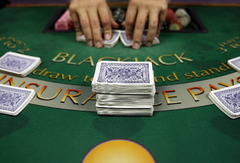 Students at the ABC Bartending and Casino School Training practice the proper way to shuffle cards.
He said that since 2008, he has trained nearly 200 Ohio residents, many from Northeast Ohio. The former Atlantic City card dealer and Motor City Casino supervisor said he fields dozens of calls weekly from Ohioans who want to sign up for his course.
"Who wouldn't want this job?" Chau said. "You get 20-minute breaks every hour, you get to eat good food for free and work with people. . . . All you need is the knowledge and know-how of the game.
"The only bad thing is that you gain 40 pounds from all of the standing and eating you do."
John Pifer, who directs the ABC Bartending and Casino School in Detroit, said the casino jobs beckon to people who have been hurt by the economy.
"This is a very low-stress job, and you don't have to be a rocket scientist to do it," Pifer said. "It is something an average guy can go do and make $50,000 to $60,000 a year. Gaming survives all economies."
Hours spent at the tables
At the suburban Detroit school, aspiring card dealers spend 40-plus hours a week practicing with current or former professional dealers who show them the techniques they need to use while on the other side of the casino table.
For about $1,000, the students learn how to properly count chips, manage a game and deal blackjack and basic poker games, all while training close to 300 hours for a dealer certification. Tuition increases as students learn more games.
Instructors even test a student dealer's awareness by adding chips after the bet, causing distractions at the table by asking for change during a bet or hiding cards. The idea is to prepare students for what happens in a real casino.
When Leitaert was in class this month, the hardest lesson for her was counting and grabbing a stack of 20 chips with one hand while simultaneously paying another player.
Chau took a handful of chips, put them close to her eyes and told her to count by feeling the grooves. He explained that dealers must learn to handle chips quickly because it speeds the flow of the game.
"The most important thing is game management," Chau told his students. "You have to understand that at the casino, nobody trusts anybody. The player doesn't trust the dealer, the dealer doesn't trust the player, the floor doesn't trust the dealer and the house doesn't trust the floor."
Looking for an edge in hiring
A school like Chau's is not the only place for people to learn how to deal.
Bob Tenenbaum, a spokesman for the two Ohio casino developers, Rock Ventures and Penn National Gaming, said the owners would probably provide floor training for people they hire.
Northeast Ohio residents and others who have gradated from the ABC Bartending and Casino School said they think they'll have an edge when applying for casino jobs in Ohio.
"When the opportunity comes, I am going to take a shot at it," said Joseph Pandrea, a 35-year-old Canton native who works at Mountaineer Casino in West Virginia.
Pandrea, a 2007 ABC graduate who deals such games as Omaha, blackjack and Texas hold 'em, said the school helped him.
"I was hoping Issue 3 would pass before, but it didn't, and I had to come down here," Pandrea said. "I have some actual experience, though, and this will help me out when I apply."
During this year's Issue 3 campaign, Adam Smith handed out stickers and posters to urge voters to pass the measure. When they did, the 24-year-old Dayton-area resident traveled to the bartending and casino college in Michigan to earn a blackjack dealer certification. The airport worker said he is ready for the job.
"The more games you know, the better the chance you can end up in the casino," Smith said. "They say these jobs are for Ohio, and I am going to do what I can to be one of the first people to get one."
Jadia Norman of Cleveland spent several stints at the Hard Rock Casino in Seminole, Fla., as a blackjack dealer after graduating from the class last year. The nursing student said she spent a few weeks this past summer working at casinos to help supplement her income.
"To be honest, I don't think they will hire dealers around here," Norman said. "A person with experience is more attractive than a break-in dealer."
Though many students in Chau's class live in Michigan, they share a bond with Ohio residents: high foreclosure rates, unemployment and hard times. They said casinos offer hope.
Kulczycki, Gilbert's spokeswoman, said state legislators will decide how many tables a casino will run, which will determine the number of dealers a casino will hire. She stressed that the bulk of the jobs will go to Ohio residents.
"I am sure we will look to people with experience," she said.
Lenny Giampino, 53, of Wixom, Mich., has spent the last nine weeks at Chau's school. He has been certified to deal more than a dozen casino and poker games. The 30-year accountant turned to the school after he was laid off from a steel company two years ago.
"I spent a lot of money, but I look at it as a small investment into the future," Giampino said. "If I can get a job that pays well, it will be all worth it."
Gordy Bivens, 32, of Hastings, Mich., a former iron worker who has been out of work for more than a year, said he would move to Ohio for a casino job. He had been a student for two weeks.
"I've been out there looking for work, but it is hard without experience," the father of two said. "If the jobs are going there, that is where I will be."

Bartending-Ain't for Dummies
What does it take to break into the world's second oldest profession?
Twenty-two year old Richard Logsdon recently completed ABC bartending School and is now at Southern Nights-a position he acquired with a combination of timing and luck. "I'm glad that I went through the school." says Logsdon "I'm much more comfortable with the club because of the things I learned".
Stan Jirsa, owner of Orlando's Cactus Club says that he insists his bartenders attend a school.

Passing the Bar
School teaches the ABC's of drink mixing
By Michael Tomberlin
Jobs in demand
With hotels, bars, clubs, restaurants, bowling alleys, caterers and others needed bartenders, trained pros are always in demand.
Nardone said some Birmingham employers already have approached the school looking for bartenders. Some employers pay the tuition to put their own bartenders through the course.
Vi Noblin is one of the first students to enroll in the Birmingham school. She's 35 and single and has cut hair for 18 years. She sees bartending as a way to work a few nights a week and supplement her income.
"I'm a people person," she said. "Being a hairdresser, I've had people tell me I was like their bartender."
Ms. Noblin said she expects the class will include much instruction on how to mix drinks, but beyond that she concedes she is not sure what to anticipate. "I have no idea," she said. "I want to have fun and meet people and bartending interests me."
If they prove themselves to be trustworthy and hard working, they can make bartending a full-time career, Nardone said. Part of the attraction, he added is a versatile lifestyle where four nights of work can earn a bartender as much as a 60-hour-a-week job, much of it in tips.
Moreover, Nardone said, this is on job that always survives economic downturns.
"In a recession, people drink to forget their problems; when the economy is good, people drink to celebrate," he said. "Whether the economy is good or bad, people are always drinking."
Classes range in size between four and fourteen students ages eighteen and older. Though Alabama bartenders must be 21, some states allow them to be 18. ABC Bartending, owned by Florida's Tony Sylvester, has schools across the nation and helps place students in jobs coast to coast. Its internet address is www.abcbartending.com.

Trade School
Mixing studies
If sleeping late is your thing, get a night job, but first try Jacksonville's bartending school.
ABC Bartending School offers 40-hour courses that mix hands-on experience with classroom studies. Students learn how to mix drinks, cut fruit and operate a cash register. The history of beer and wine is also taught. "We teach people how to walk, talk, think and look like a bartender," said Ron Hobbs from ABC Bartending, " and of course, that comes down to customer service." Apparently, the stereotype of bartenders as confidants is true.
"From my experience, we're the poor man's psychiatrist," Hobbs said. "We don't use couches, we use bar stools." Graduates get jobs at night clubs, hotels, restaurants and sports bar.
Collen Hiltz, 36, of Jacksonville attended the ABC school in April. Now she works weekends at Seafood Galore in Neptune Beach.
"I would recommend bartending for everybody," Hiltz said. "It's good to have on the side to make some extra money. "Hiltz graduated from college with a degree in advertising. She chose the bartending school so that she could have a flexible schedule and a way to make money while she looked for a full-time job.
Hiltz recently started a job at Apple One employment agency, but she plans to keep bartending.

Students of the Bar
The Perfect Bartender
Always light the customer's cigarette. 'I was like a panther moving towards them if I saw someone lighting a cigarette
Always give the customer a clean glass with each drink.
Always acknowledge a new customer. If you're busy, let them know you see them right away
Don't buy drinks for a good customer. Introduce him to the owner or manager, and that way, they're both flattered.
Serve the ladies first. Chivalry still exists, and remember, the lady always tell the man how much to tip.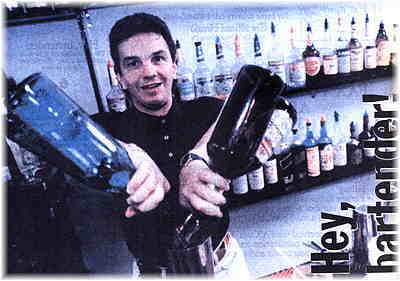 Hey, bartender
By Daniel P. Ray (Freelance Writer)
Almost anyone can belly up to a bartending job, but making a decent living at it requires a double shot of personality and hustle.
Training is relatively brief, and available either on the job or from a private school. Age, gender and looks, while important, won't preclude employment. And an ever-thirsty South Florida keeps the job market brimming.
Mastering Mixology
Getting set with a job requires training and several private schools offer bartending courses. They generally last for two weeks, with varied hours to accommodate day and night students. The schools boast tremendously high placement rates for graduates.
Students learn drink mixing, procedures for opening and closing bars and cash register operation. They also learn about Florida's dram laws, which hold bars responsible for the actions of over served customers.
At the end of ABC's two-week course, owner Tony Sylvester also demonstrates how to flip bottles, a la Tom Cruise in the movie Cocktail.
"I used to teach it early in the course, but then there would be broken bottles and glasses all over the place." he said. "I learned my lesson. Now, I do that in the last hour to two hours of the program, so they'll go home and practice it on their own bottles."
Compatible with the club
Clubs tend to hire bartenders who match their clients.
"This business is set up on the theory right face, right place." Sylvester said. "That means your style and your personality matter, in addition to your ability to get the job done. Different bars require different style, and that's what gets you the job."

Tony Sylvester's Advance Hospitality Services Connects Employers and Restaurant Personnel
When you are new to an area, such as South Florida, it is an unusual experience to find people who know their business, and are ready and able to help you get settled. Tony Sylvester is that kind of person. His motto is "Don't Worry, Be Happy! Help is Here." Tony Sylvester owns and operates one of the finest hospitality employment agencies in the Broward/Palm Beach/Dade corridor - Advanced Hospitality Services. He has a long and illustrious record with the restaurant and hotel industry. To say that Tony knows everybody is an understatement. They not only know Tony, but respect him.
Tony started his career after serving in the military during Vietnam. In New Jersey, he started out by running a successful cabaret nightclub. He then spent many years traveling the east and west coasts of the United States tending bar and managing various facilities. He has worked in every imaginable operation. This is why Tony knows the business. And that is why Tony is more qualified to help those in the industry. When Tony Sylvester moved permanently to Florida in 1977, he opened the first school for bartending and restaurant service. Later the company grew to four schools. He noted the tremendous growth and the severe need for well trained personnel. After ten years of providing top notch graduates to the area, he sold his interest in the schools to concentrate on his latest venture - the employment service. His knowledge of the area and it's restaurateurs make him highly qualified to provide successful career guidance.

By Shirlee Williamson
Staff Writer
Bartending School Teaches Gracious Service And Style
School Courses Mix Well
Bartending Classes Teach Attitude

By Glenda Cohn
Staff Writer
Spirit's What Student Needs In Passing This Bar Exam
Tony Sylvester could probable motivate a swizzle stick.

By Pat Mascola
HE'S A GOOD MIXER,
And Gets Paid For It, Too!