Only $100 to register and start for those who qualify for payment plans.


Owner has been training bartenders since 1977 - Do not be fooled by imitators & online schools that try to copy our successful program


37 bartending jobs leads available this month - why bartend for free as a bartending school graduate?


ABC Bartending Schools has a bartending school in Dallas / Fort Worth, Texas and is the largest privately owned bartending school system in the United States. Tony Sylvester has owned bartending schools and has been placing bartenders nationwide since 1977.
Click here for more info at the Bartending School of Dallas, Texas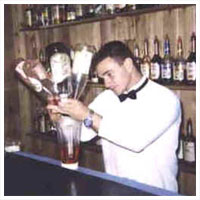 If you are 18 years of age or older, you could be in this picture, training in just 32 hours to become a professional mixologist.
Select the best bartending school:

Jobs! Jobs! Jobs! $$$ High percentage of students being placed out of our DFW schools: The food and beverage industry is second only to the US government when it comes to employment!
Hundreds of clients recruiting students from our school on a weekly basis: DFW has one of the best markets in the country for bartending & we have been doing it since 2001 in the Metroplex.
ABC has been training & placing bartenders for 30 years and is a nationwide company, which means any graduate can transfer to any ABC school for training or placement assistance.
You will learn a trade you can keep for life.
Pay averages between $15.00 and $50.00 per hour.
Flexible schedules
Hands on training (the only way to learn)
Easy to learn (this is an entry level position for anybody)
Placing thousands of trained students out of our DFW locations has enabled us to build hundreds of ties with establishments that need bartenders.
Full-time, Part-time, private parties, sporting events, you name it...we can help you get there.
Our Dallas school instructors have over 38 years experience alone.
Remember! This is a fun class: make new friends and have fun!
Call us today: 972-720-8282 or 817-590-2800
Payment plans for those who qualify: a $100 registration deposit may get you going into a new career.
Cheers!
ABC Bartending Schools Inc.